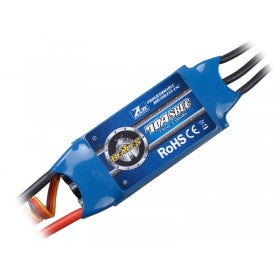 ZTW
ZTW BEATLES SERIES 70A BRUSHLESS ESC W/ 5A SBEC
---
ZTW Beatles Series ESCs are entry-level speed controllers for fixed-wing models and are designed for the beginner who is sensitive to price and performance. But even seasoned pilots will find a new "go to" choice in the Beatles line of ESCs as they are designed with user convenience in mind. Each ESC is ready to use out of the box and requires little-to-no programming. As always, however, the ESC can be programmed by your transmitter or the optional program card. Some of the many features of these ESCs include their small size, minimal weight, super smooth start up and throttle linearity, multiple layers of protection, low cost, and dependable performance.
ZTW speed controllers are one of the most widely used and trusted speed controller brands available on the market today. They are sold under many different brand names, but we choose to purchase direct from the manufacturer without rebranding so that we can pass the savings on to you. In fact, some of your favorite ready-to-fly models in your hangar may have a ZTW Beatles ESC already in them and you just didn't know it!
Features:
● Extremely low internal resistance
● Super smooth and accurate throttle linearity
● Safety thermal over-load protection
● Auto throttle shut down in signal loss situation
● Support high RPM motors
● Power arming protection (prevents the motor from accidentally running when switched ON)
● New advanced programming software
● User programmable by TX or optional programming card
Specifications:
● Output: 70A continuous, 80A burst
● Input voltage: 2-6s LiPo; 5-18 cell Ni-XX
● SBEC output: 5.5V/5A (Switching)
● Weight: 85g
● Dimensions: 68 x 37 x 17mm
Programmable Options:
● Brake setting (on/off -- default: off)
● Battery type: (Ni-XX/LiPo -- default: LiPo auto detect)
● Low voltage cutoff setting (2.8V 50% / 3.0V 60% / 3.2V 65%  -- default: 3.0V)
● Factory default setup reset
● Timing settings (Auto 7-30° / Low 7-22° / High 22-30° -- default: auto)
● Acceleration (Soft / Normal / Hard -- default: soft)
● Governor mode (RPM off / Heli Mode 1 / Heli Mode 2 -- default: RPM off)
● Motor rotation (forward / reverse -- default: forward)
● PWM/Switching Frequency (8KHz / 16KHz -- default: 8KHz)
Parameters can be programmed using your transmitter, or by using the optional programming card (available separately).
Click here to download the ZTW Beatles Series ESC Programming Manual
---
Share this Product
---
More from this collection