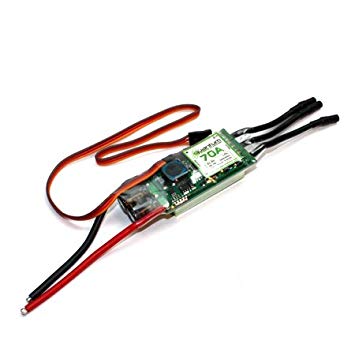 Castle Creations
PROMO Qantum pro 70A 2-6s with switching bec (85A peak current)
---
The
PA Quantum
is a performance enhanced Brushless Electronic Speed Controller specifically designed to seamlessly match our Thrust motors.
The ESC come pre programmed for the Thrust motors so it's only a matter of plug-and-play.
The Quantum ESC is only geared for one thing: to allow you to execute the most challenging maneuvers with ABSOLUTE confidence in your drive system.
With ease of use in mind, the PA Quantum includes ONLY features that you NEED for performance, minimizing the hassle of lengthy and confusing programming steps.
This means less time spent on the ground going through lengthy and frustrating programming features that you do not use.
High output BEC (Battery Eliminator Circuit) 

Fully programmable Microprocessor Controlled 

User friendly human interface for easy, hassle free and quick programming

Exceptionally low resistance for excellent efficiency and cool operation 

High Rate switching with High RPM Brushless motor support 

Rugged surface mounted industry grade components for added reliability and crash durability 

Lipo, NimH, NiCad battery pack under-voltage protection to safeguard premature deterioration and pack damage.
Features:
Extremely low internal resistance

Super smooth and accurate throttle linearity

Safety thermal over-load protection

Auto throttle shut down in signal lose situation

Supports high RPM motors

Power arming protection (prevents the motor from accidentally running when switched ON)

NEW Advanced programming software

Powerful and reliable switching BEC (Battery eliminator circuit)

New large high efficiency designed heat sink
Specifications:
Continuous Current:
70A
Burst Current (<10s):
85A
Switching BEC Output
(Continuous/burst):
5.6V/4A (continuous)
6A (burst)
LiPo:
2-6 cells
NiMh/NiCd:
6-18 cells
---
Share this Product
---
More from this collection