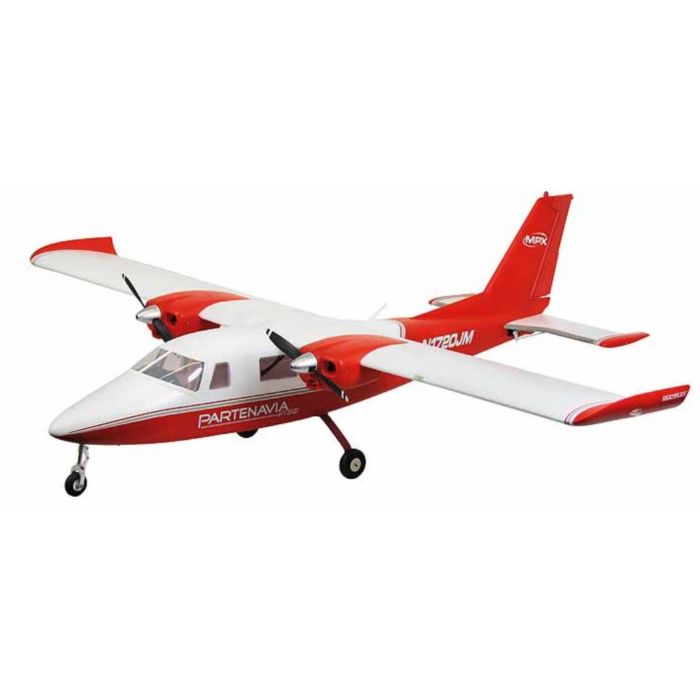 Multiplex
PROMO MULTIPLEX PARTENAVIA P68 RR, 1400MM
---
MPX PARTENAVIA RR
Vulcanair Aircraft's P.68C is a twin-engine, high-wing aircraft with six seats and a tripod landing gear. Besides being used as a cruising and transport aircraft, it is also used for pilot training. With its two engines, the P.68C is a good-natured, stable aircraft in all flying conditions, whose excellent flight characteristics are highly appreciated by many pilots.
The new Partenavia P68 from Multiplex with 1400mm wingspan is a prototypical replica for advanced model pilots. The two counter-rotating brushless ROXXY BL Outrunner C28-28-1400kV motors, in conjunction with the two MULTIcont BL-20 P68 controllers and a 3S2600 mAh battery, give the model optimum motorization and no tendency to yaw during speed changes. The model flies extremely well behaved and also allows aerobatic maneuvers such as rolls, loops and inverted flight.
The CNC-machined and spring-loaded nose wheel leg ensures that the model does not bounce when landing. The factory-mounted LED landing or navigation lights, as well as the working flaps, are also features that give the model a special charm.
The spacious battery bay accepts 3S batteries with 2200 - 5000 mAh, giving a wide range of flight performance and duration. The crystal clear front screen allows the installation of an FPV system to further increase the flying fun. With the bright red paint, the model is excellent to see in the air.
FEATURES
Powerful brushless drive system with counter-rotating two-blade propellers
Factory installed LED landing / navigation lights, functional landing flaps
Very good handling when taxiing on the ground due to tripod landing gear with steerable, spring-loaded and CNC-machined nose wheel leg
Quick battery change through front upper fuselage cover
Large battery bay that accepts 3S batteries with 2200 - 5000 mAh
Crystal clear front screen, suitable for FPV
Ready applied bright red paint, ready applied decals
Material: Elapor
Level: 2 Hobby
Wingspan in mm: 1400
RC functions: SR/HR/QR/Spoiler/Motor
Flight weight electric in grams: 1550
Flight time in minutes: 10
Battery types/cells: 3S LiPo
Building time in min.: 180
---
Share this Product
---
More from this collection