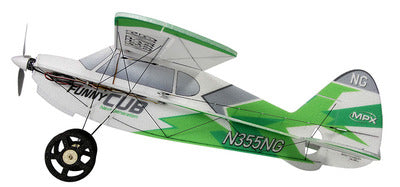 Multiplex
Multiplex Funny Cub INDOOR EDITION
---
he MULTIPLEX FunnyCUB brings a bush atmosphere to gyms and gardens for model enthusiasts. With its large wheels and cushioned landing gear, it can, like its big brother FunCub, take off and land virtually anywhere. It is also possible to lower both flaps for use as airbrakes, which further decreases flight speed and take-off distance. The FunnyCub is therefore a must-have for all bush plane and indoor flying fans, as well as for those who only want to take a casual stroll behind their home.
This EPP model is very robust in construction and will survive almost any piloting error. With the FunnyCub, it will be possible to pass almost every figure of aerobatics imaginable.
Kit Contents:
EPP fuselage, wings, tailplane and landing gear with color printing. Winged wings and fuselage in CFK, wheels. All the small plastic parts needed to assemble and connect the rods. Detailed record.
Technical data:
Material: EPP
Wingspan: 930mm
Length: 810mm
RC functions: steering, depth, fins x2, engine
Weight in flight: 180g
---
Share this Product
---
More from this collection