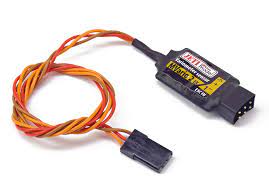 Jeti
Jeti Telemetry MVario 2 JEX-MV2
---
Jeti Mvario2 2.4EX (Jeti Vario)
Module MVario EX is used for measuring the size of climb, descent, and the relative height. The measurement provides a sensitive sensor of barometric pressure. Range of the sensor is a 100 - 1100 mBar. Module MVario records the maximum height, maximum climb and descent of the model. For display of measured values is used JETIBOX terminal with the possibility of wireless transmission of information in real time using the DUPLEX 2,4 GHz system. The connection a MVario module and DUPLEX 2,4 GHz system makes possible setting alarm for the climb and descent of the model in four steps. The range of these steps can be set directly in m/s.
FEATURES
- Very fast and accurate recording of the climb and descent speed.
- Measurement of altitude, barometric pressure, temperature, ascent / descent.
- Variometer sound via the JETI Duplex DC / DS-12/14/16/24 transmitter
- Possibility for acoustic alarms on JETI Duplex transmitter modules and the JETI Box Profi.
- Use as an expander for connecting additional sensors.
- Adjustable energy compensation (TEK) in conjunction with the MSPEED EX sensor.
- Use as "Engine OFF" switch when reaching programmed altitude limits (FAI F5J or ALES competition categories).
- The JETI Duplex 2.4EX MVario2 is compatible with the EX Bus protocol for easy setting via the device overview of the DC / DS-16 transmitters.
- Very small design.
- Firmware updates via JETI USBa adapter possible.
- Dimensions: 35x16x7mm
- Weight incl. cable: 5g
- Measurement of the absolute/relative altitude: ±9m/± 3m
- Resolution of altimeter: 0.1m
- Measuring range: 450 - 1100hPa
- Temperature range: -10 - 85°C
- Voltage supply range: 3.5 - 8.4V
- Power consumption: 15mA
- Cable length: 260mm
---
Share this Product
---
More from this collection