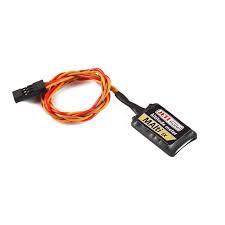 Jeti
Jeti Telemetry MAlti - Altimeter JEX-MA
---
Jeti MAlti 2.4EX (Jeti Alitude meter)
The MALTI EX (Rev. 2) is a sensor which measures the atmospheric pressure. From the measured data, the Malti EX calculates the height above sea level and the relative height
above ground. In addition, the minimum / maximum data values and the sensor can output warnings for set values. The data of the sensor will be transmitted via the
duplex system and the actual measured values in real time on the LCD screen of the Jeti Jeti model or the DC / DS Tx display.
Note: A glider variometer function can not be provided by MAlti. For gliders use Jeti Mvario2
FEATURES
- Measurement* of altitude, barometric pressure, temperature.
- Possibility for audible alarms at Jeti Duplex transmitter modules and the JetiBox Profi.
- The Malti is compatible with the EX bus protocol for convenient setting on the device manager of DC / DS-16 transmitter.
- Firmware updates via Jeti USBa adapter
- Dimensions [mm]: 30x16x7
- Weight incl. Cable [g]: 5
- Measurement accuracy the relative height [m]: ± 3
- Resolution altimetry [m]: 0.1
- Measuring range [hPa]: 450 ÷ 1100
- Temperature [° C]: -10 to 85
- Power supply range [V]: 3,5 to 4,8
- Power consumption [mAh]: 15
---
Share this Product
---
More from this collection