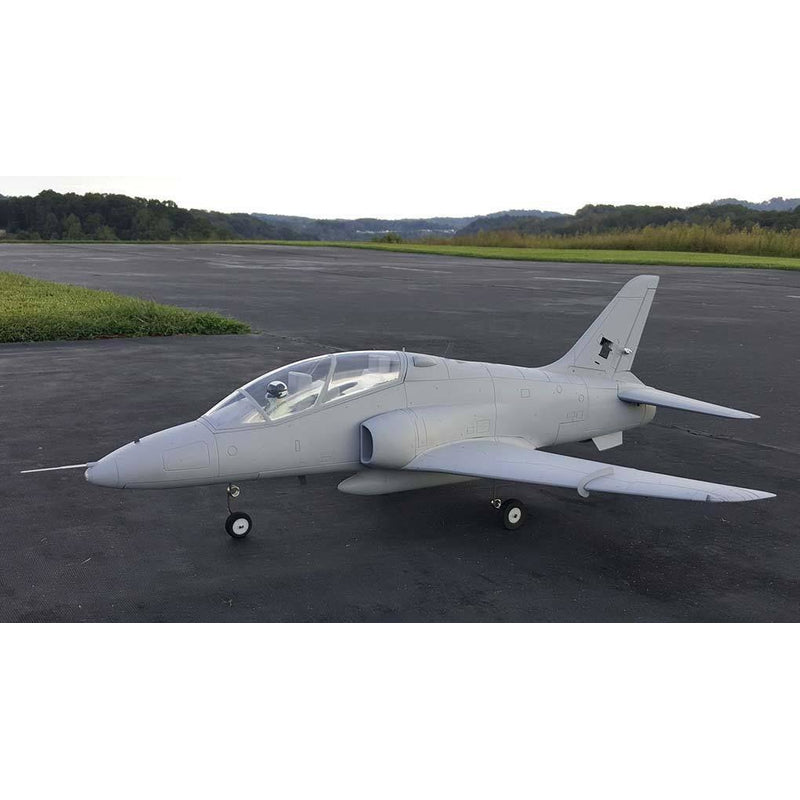 freewing
Freewing Bea Hawk T1 base grey 70mm EDF jet KIT+/ARF +
---
Perhaps the most versatile British advanced trainer jet in the world, the BAe Hawk has been in service for over 40 years. Operated at its peak by 18 countries in various trainer and light combat roles, the Hawk T1 variant was also popularized by the Red Arrows display team, whose expert piloting demonstrations have amazed audiences worldwide for generations.
Freewing are proud to present this well-loved aircraft as a 70mm EDF powered electric flying model. The Freewing 70mm Hawk T1 features a powerful 12 bladed EDF power system for satisfying speed, vertical performance, and realistic sound, and gives sport jet handling similar to the Avanti and Stinger 90. Since the T-45 is a modified version of the BAe Hawk, we scaled down our Freewing 90mm T-45 Hawk from 2015 then reworked it to be simpler, faster, and with a lighter wing loading with superior all around handling.  
With your supplied 6Ss 4000mAh-5000mAh LiPo battery, the 6S power system can achieve a top speed more than 160kph / 100mph. Retractable landing gear, flaps, and a wide gear stance make the aircraft well suited for beginner to intermediate jet pilots flying off of pavement or very well manicured grass runways. An optional suspension strut set is available if more shock absorption is desired. A large battery bay provides easy access to your battery, receiver, and an optional gyro stabilizer.
To enhance visibility, the Freewing 70mm Hawk T1 also features the signature bright white nose light of the real aircraft, and sports bright red and green wingtip lights as well. This is the only Freewing 70mm Class aircraft to include pre-installed lighting!
Building upon the popularity of the Freewing 70mm F-16, the Freewing 70mm Hawk T1 adds the new feature of LED lighting and the benefit of a wider wing and wider gear stance than the F-16. Overall, the Hawk makes a perfect "first 70mm EDF", and its common size 6S 4000mAh battery can be used in many other aircraft. Stable and predictable at both slow and high speeds, the Freewing Hawk T1 cruises confidently at 50% throttle, giving pilots time to enjoy the profile of this iconic jet as it flies by. We also love this Hawk because it flies like a smaller Freewing Avanti -one of the world's most popular foam EDFs! With a similar planform as the Avanti, proficient pilots can push the Hawk to perform many acrobatic maneuvers with precision and confidence. We have found the Freewing Hawk T1 to be "a sport jet that looks like a scale jet"!
Celebrating the Red Arrows Demonstration Team's approach to 40 years of service using their BAe Hawk T1s, the Freewing Hawk T1 is finished in one of the iconic Red Arrows liveries with the included decal set.
It is our hope that as you enjoy the Freewing 70mm Hawk T1, you will spread the love of flight and of this venerable aircraft's contributions to aviation history.
Features:
    Durable EPO Foam and Reinforced Construction
    Realistic Shape and Detailing
    "DayBright" LEDs (White Nose, Red Port side Wingtip, Green Starboard side Wingtip)
    CNC Full metal retractable main and steerable nose gear with shock absorbing struts, Retractable suspended gear
    Inrunner motor 2957-2210
    Flaps
    12 Blade EDF Fan For Realistic Sound
    Removable Main Wing for Easy Transport
    Minimal Assembly
    Optional Suspension Strut Set (Sold Separately)
Includes:
    Freewing 6S Hawk T1 Red Arrow 70mm EDF Jet - PNP Deluxe
Requires:
    6 Channel Radio 
    6 Channel Receiver 
    6 Cell 22.2V 4000 - 5000 mAh Li-Po Battery with EC5 Connector 
    6 Cell Compatible Battery Charger
Product Specifications:
Wingspan 1020mm / 40.16in
Length 1221mm / 48.1in
Weight 1450g / 51.14oz (w/o battery)
CG (Center of Gravity) 162mm from the leading edge of the intakes
Power System 2957-2210kV Brushless Inrunner Motor (optional)
Electronic Speed Control 80A, EC5 Connector (optional)
Propeller / EDF 70mm 12-Blade EDF
Servos
9g standard digital metal gear with 300mm lead : nose gear steering
9g standard digital metal gear with 550mm lead plus 300mm lead : left aileron, right aileron, left flap, right flap
9g standard digital metal gear with 550mm lead plus 400mm lead : left elevator
9g reverse digital metal gear with 550mm lead plus 400mm lead : right elevator
9g standard digital metal gear with 550mm lead plus 300mm lead : rudder
CNC Full metal retractable main and steerable nose gear with shock absorbing struts, Retractable suspended gear
Required Battery 6S 22.2V 4000 - 5000mAh LiPo with EC5 connector (required)
Required Radio 6 Channel (required)
Ailerons Yes
Elevator Yes
Rudder Yes
Flaps Yes
Lights Yes
Hinge Type Nylon hinges
Material EPO Foam
Skill Level Intermediate
Build Time 1 Hour
Recommended Environment Outdoor
We can build , setup and customize your jet at your preferences 
Different setups , led light and afterburner configurations possible 
Attached pictures for example , contact us for information 
---
Share this Product
---
More from this collection