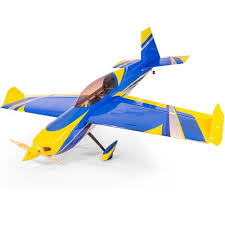 Extreme Flight
Extreme Flight 48" Edge V2 Blue/yellow scheme - ARF
---
48" Edge 540T V2 Blue / Yellow
Extreme Flight is pleased to announce the release of the version 2 48" Edge 540T. The Extreme Flight Edge design is legendary for its superior stability in low and slow high alpha flight, making it the ultimate 3D trainer. But don't let its good manners fool you, it is as capable as any airframe in our fleet of aggressive gyroscopic tumbling maneuvers and precision flight. The V2 version features the latest in construction techniques and materials, resulting in a light weight and strong airframe and it features our new quick release wing attachment system for fast, effortless assembly and disassembly at the flying field. Pair the Edge with our Torque 2814/820 brushless outrunner and Airboss 80 Amp ESC combo to provide ballistic, reliable power and save you money with the combo discount!
!!!Comes with 52mm Spinner!!!
Power Setup
Motor: Torque 2814/820 Outrunner
Prop: Xoar
12 x 6 Electric (best) or APC 12 x 6 Electric
ESC: ZTW Mantis 65A
Battery: 4S 2200 - 2700mAh LiPo Gens ACE tattu 4s 2300mah 45C 
Radio
Modern 5 channel Transmitter
Servos
Qty. 4 Hitec HS-70MG, HS-5065MG, HS-5070MH or Savox si 255 mg
Servo Extensions
Qty. 2 Extreme Flight 6 inch 28 AWG
Qty. 2 Extreme Flight 18 inch 28 AWG




Assembly Video

48" Edge 540T V2 in Action!




---
Share this Product
---
More from this collection